Sportsline with Chris and Marques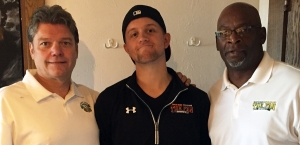 Chris Havel:
Chris Havel brings an engaging, entertaining, and informative style as host of Sports Line for the past decade. Chris relies on his 20-plus years of experience as a newspaper reporter and columnist covering all sports, but particularly the Green Bay Packers.
Havel, a Wisconsin native, has been one of the leading voices on Packers coverage in the northeastern part of the state.
When he's not on-air talking Packers, Badgers, Brewers or Bucks he enjoys reading, playing golf and writing his weekly column for Event USA.
Havel, a national best-selling author, currently is working on his follow-up to "Lombardi: An Illustrated Life!" which was published in 2011. He is available for speaking engagements and appearances and can be reached by email at chris.havel@yahoo.com.
Marques Eversoll:
Born and raised in the Madison area and a graduate of the University of Wisconsin-Green Bay, Marques Eversoll brings a homegrown perspective to The Fan. Marques had astandout subpar athletic career at McFarland High School, before turning his attention to sports journalism and broadcasting. Behind the mic, Marques keeps the conversation light, and his opinions strong. The best day of Marques's year? Day 1 of the NFL Draft. Followed by Day 2 of the Draft. Then, March Madness, WrestleMania, Christmas and stuff. You can hear Marques every weekday afternoon 4:00 PM – 6:00 PM as Co-host on SportsLine.  You can follow Marques on Twitter (@MarquesEversoll) and/or contact him at Marques.Eversoll@cumulus.com.