Sportsline with Chris, Harry, and Marques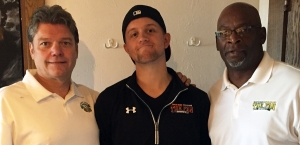 Chris Havel:
Chris Havel brings an engaging, entertaining, and informative style as host of Sports Line for the past decade. Chris relies on his 20-plus years of experience as a newspaper reporter and columnist covering all sports, but particularly the Green Bay Packers.
Havel, a Wisconsin native, has been one of the leading voices on Packers coverage in the northeastern part of the state.
When he's not on-air talking Packers, Badgers, Brewers or Bucks he enjoys reading, playing golf and writing his weekly column for Event USA, the Green Bay Packers' official ticket company.
Havel, a national best-selling author, currently is working on his follow-up to "Lombardi: An Illustrated Life!" which was published in 2011. He is available for speaking engagements and appearances and can be reached by email at chris.havel@yahoo.com.
 Harry F. Sydney III

Harry Sydney is a former NFL football player, coach and a 3 time Super Bowl Champion.
Harry has a degree in Juvenile Justice and Criminology from the University of Kansas; he and his wife have a blended family of eight children and 5 grandchildren.
He played professional football in the USFL, CFL, the San Francisco 49ers and the Green Bay Packers.

San Francisco 49ers 1987-1991 where he earned 2 Super Bowl rings.
His last season as a player in 1992 was here with the Green Bay Packers.
Harry Sydney is "the only one" as an NFL fullback to catch a touchdown pass from Joe Montana and Brett Favre.
After his NFL retirement, Mike Holmgren hired Harry to coach running backs for the Green Bay Packers coaching greats such as Edgar Bennett, Dorsey Levens, and William Henderson, and earned another Super Bowl ring as a Green Bay Packer coach.
When Sydney retired from the National Football League he launched a non-profit organization My Brother's Keeper-Straight Talk~ Sound Direction male mentoring program in Green Bay, WI.  Since 2003, he has dedicated himself to helping thousands of boys and men find success in dealing with the hardships in their lives. The mentors in the program help boys and men gain the knowledge and skills to make positive changes in their lives.
Despite operating a mentoring service for men, he co-hosts Sportsline on "The Fan" 107.5 FM and 1400 AM.
Marques Eversoll:
Born and raised in the Madison area and a graduate of the University of Wisconsin-Green Bay, Marques Eversoll brings a homegrown perspective to The Fan. Marques had astandout subpar athletic career at McFarland High School, before turning his attention to sports journalism and broadcasting. Behind the mic, Marques keeps the conversation light, and his opinions strong. The best day of Marques's year? Day 1 of the NFL Draft. Followed by Day 2 of the Draft. Then, March Madness, WrestleMania, Christmas and stuff. You can hear Marques every weekday afternoon 4:00 PM – 6:00 PM as Producer and Co-host on SportsLine, and every Saturday morning 8:00 AM – 10:00 AM as host of the Saturday Morning Showcase.You can follow Marques on Twitter (@MarquesEversoll) and/or contact him at Marques.Eversoll @ cumulus.com.